Scully Elly's Toyshop of the Bizarre: Fighting Hatred and Evil with Crochet Since 2003
Presents….. CUDDLY SADDAM!

SADDAM HUSSEIN Cuddly Handmade Musical Doll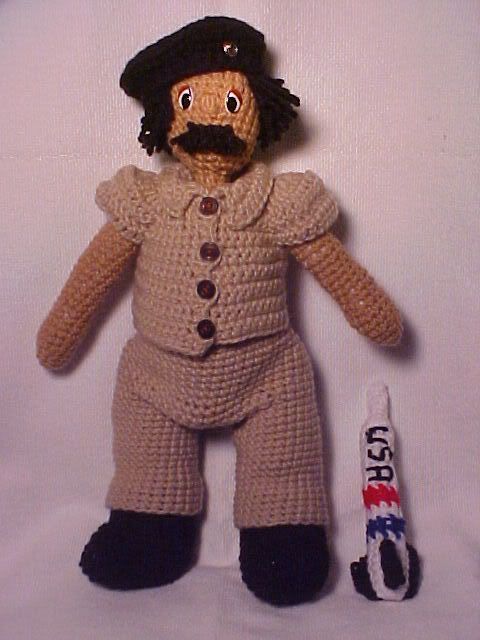 Back by popular demand, it's the return of…

CUDDLY SADDAM!


OK, so it didn't sell last time around – but the little guy seems to have spread such good cheer around the world at such a sad time, we figured we'd give him another trip around the block. Hopefully, by the time this auction ends the war will be be over!


Elly deeply appreciated all of the kind and humorous email she received about her creation – and she thanks you for that! Among the barrage of messages received was a note from a lovely British gent who requested she make another Saddam doll that plays "God Save the Queen" when he's "invaded" by the Patriot Missile. We love that idea, but, alas, we can't seem to find a music button that plays it!


Just to clear up a misunderstanding we noticed during the first auction….


This is NOT a mass produced item – there is only one in existence. The work put into it took about two weeks; hence the original price tag of 99 bucks – really, a bargain if you think about the time that went into it.


And now, off to the descriptive spiel….


Description:


This one of a kind creation was hand crocheted by New Orleans artist, Scully Elly.


Saddam stands an intimidating 15" tall, from the top of his stylish beret to the bottom of his nifty boots. Rich palace food has made him 5" wide (over 12" around the waist!)


Saddam is 100% hand crocheted from acrylic yarn, stuffed with polyester fiber fill (which makes him non-allergenic – and will keep him soft and cuddly for generations to come!) and features astonishing detail, including protruding belly, bubble butt, bushy mustache, and lifelike (yarn) hair. His arms and legs are jointed so that he is posable, and his plastic eyes convey a look of droopy bewilderment.




Saddam's clothes are removable, including his pants, shirt (with working buttons), boots and beret, all of which are hand crocheted. He also comes with an interactive Patriot Missile (also hand crocheted).


"Interactive" patriot missile, you ask? Well, yes….


Saddam has a little secret. He is anatomically correct both in his fly-zone and no-fly-zone. The "interactive" Patriot Missile fits quite snuggly up his "no-fly-zone" (if you catch our drift) and if you ram it up there hard enough, he will play "God Bless America".


We cannot show you Saddam's personal "zones" due to Ebay policy, but believe us, he has both an innie and an outie (his outie being his most unique but least impressive attribute).


This toy is not suitable for children. Contains small parts (fly-zone!)


Cuddly Saddam will make a great gift for your favorite White House staffer!


Please click to supersize the photos below, two of which show exactly where President Bush would like to hide a few weapons of mass destruction!


NOTE: This cuddly Saddam doll was created in the spirit of political satire. We understand that this is a politically incorrect toy (or politically correct, depending on who you talk to). Please feel free to send your "non-bidding related" comments to scullyelly@yahoo.com. Elly promises to read and respond to all (well, most) mail sent there.


ONE MORE NOTE: Although this is a new Ebay ID with no feedback, we have been selling music-oriented items for years under our Powerseller ID which has a rating of well over 1,000. Please feel free to check our feedback by visiting Our New Ebay Store!


We accept Visa, Mastercard, Discover, American Express via PayPal.


We also accept Money Orders or Check. Personal checks must clear before shipping. Buyer pays $4.50 shipping. International shipping may be more.


We ship via UPS, which automatically includes insurance and package tracking.


SUPPORT OUR TROOPS!
Please join us in hoping that the war ends quickly and with minimal casualties!
Godspeed, y'all!


Thank you for looking!